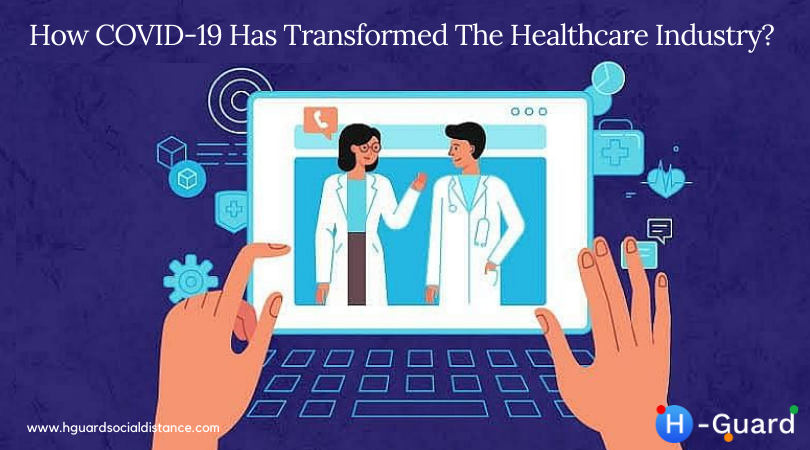 Medicine has always been part of human evolution, with its discoveries it has been taking care of us. In recent years it has even adopted technology at large scale such as artificial intelligence algorithms to read x-rays and so on. Healthcare industry was striding towards more innovative techniques when suddenly the advent of Coronavirus has brought unparalleled demands.
The COVID-19 has extensively challenged the potential of the healthcare sector, putting the field leaders on work to find the way out. But this medical crisis is far from an ordinary crisis, despite this healthcare industry has managed to hold the reins while opting for an innovative solution to curb its effects. The industry's innovation potentials have been tested by both COVID-19 and the economic fallout from its spread. The healthcare sector has undergone many challenges to demonstrate its resilience and ability to bring new products to market quickly.
Not like other industries didn't face any challenges but healthcare is uniquely affected provided the nature of this crisis such as managing multiple things together, from vaccine development and trial to complex supply chain to create a new engagement model and the list goes on. With this much changes, the question raises is, whether these changes are permanent or temporary, even though it is quite hard to predict now but there are some changes which are likely to become 'new normal' of the healthcare industry. Let's explore them:
Wide adaptation of Telehealth - Also known as Telemedicine. This technology-driven healthcare delivery isn't the whole new notion but since pandemic focuses more on social distancing, the demand for telehealth has surged. Telehealth means to take care of patients remotely, using modern technology that enables doctors to consult patients by using HIPAA compliant video-conferencing tools. During COVID-19, the trend of telemedicine increased because of value-based care. With the rising cases of COVID-19, the widespread use of telehealth is taking the form of a permanent change.


Incorporation of Artificial Intelligence - The pandemic has accelerated the incorporation of technology at large scale almost in every sector and healthcare is one of them. To emulate human understanding in the analysis, interpretation, and comprehension of complicated medical and healthcare data, AI has been establishing its roots. Nonetheless, AI in healthcare has not yet reached its full potential but is expected to achieve in the next two-three years. In this pandemic, the utilization of AI-based robots could eliminate unnecessary human interactions, thus decreasing the risk of transmission.


The enhanced role of mobile devices and wearables - During the global pandemic, the orders for strict social distancing and contact-tracing has enhanced the role of social wearables tools. The manual monitoring for social distancing and recording for contact-tracing may not be that much effective, hence opting for a tech solution is a good decision. These don't certainly technically grant any specific clinical benefit instead it is more for tracking patient data and delivering education.


More interest in self-care - Pandemic has not only transformed the lifestyle of people but also motivated them to focus more on their health. As defined by WHO, "Self-care is the ability of individuals, families and communities to promote health, prevent disease, maintain health, and to cope with illness and disability with or without the support of a healthcare provider". Amidst the pandemic when people were confined to their homes, they took great care of their families on their own, of course complying with the guidelines issued by renowned healthcare institutions.
Final Thoughts
Indeed the healthcare industry has been transforming after the pandemic. The notion of integrating technology with healthcare facilities isn't new but is accelerated at a large scale. The significance of effective and accurate health control measures can't be ignored. It now becomes a necessity rather than an option. The manual approach will drive you nowhere for it is not accurate and when it comes to accuracy then what can be more effective than the technology.
Hvantage brings an effective tech solution and wearable device "H-Guard".
"H-Guard" safeguards your health and safety by maintaining & monitoring social distancing and records the contacts to do proper contact tracing at your workplace. It is a wearable device connected to your phone via Bluetooth. The primary objectives of "H-Guard" are:
Monitoring and Maintain Social Distancing.

Contact Traceability

To Control Community Spread.
Significant features of "H-Guard" are:
App-Based Monitoring

Real-Time Alert

Alert History Reports

Contact Traceability
Your safety is in your hand!!