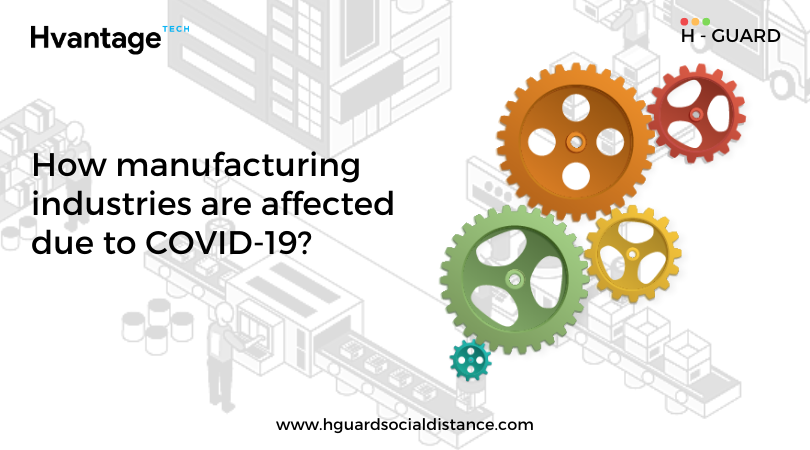 Manufacturing Industries are the backbone of all the other industries. Right from manufacturing household necessities to capital goods, manufacturing industries helps in the growth of the economy. In 2018, manufacturing industries contributed 18% in global GDP. As the demand has been increasing for a few years due to population growth, manufacturing industries are progressing proportionally.
But, as the COVID-19 breaks out in the whole world, the growth rate of these industries has been declining because of the unexpected turns of events. Not having any vaccine for the virus and rapidly increasing cases caused the World Health Organization (WHO) to declare global health emergencies further resulting in lockdown. It affected the collaborations of various industries, manufacturing industries are temporarily shut off or reduced the number of operations only for essential commodities.
Problems facing by manufacturing industries due to outbreak -
Not any of us has thought that COVID-19 outbreak will last this long. It almost disturbed the global economy at large scale and could decline by 1% in 2020. Industries and Firms were not prepared for this outbreak because this is unforeseen. Consequently, manufacturing industries are facing problems such as:
Disruption of Supply Chain and Logistics – Due to lockdown all international flights were closed and now only a few are started once again. The whole transport system whether international, national or local was ceased caused major interference in supply chain process and logistics. It became impossible for producers to call for raw materials or deliver intermediate or finished goods. Only the supply and delivery of essential commodities were allowed.
Limited Working Capital – Manufacturing industries need working capitals to carry out daily operations smoothly. Many laborers work on daily wages and many payments are done by cash on a daily basis. Pandemic disturbs the flow of money in the whole economy leading to inadequate capital. Working capital is necessary for a business to maintain liquidity which is important especially in manufacturing industries to clear payments as generally these industries deal in short term credit.


Labours Shortage – labours are important to carry out the production process, it's impossible to continue the production without them. In the beginning, production units were closed forcing laborers to move out to their native place since they depend on daily wages for their livelihood. Now after sometime when the world is moving towards unlocking, many labours are still not coming back causing a shortage of labours.
Shorten Work Hours – Lockdown is uplifted gradually to resume the economic activities with less working hour and a half employees at the office. Manufacturing industries have also started their production but the problem is some materials take time to finish which may be not possible in the given work hours creating difficulties to manage the production schedule. Also due to shorter work hours production is low.
Limited Movement – Lockdown is lifting up but with strict rules and guidelines issued by the state government and local government. Everyone is now conscious about their health and safety hence it restricts the movement of goods and affects the logistics of the industries, resulting into the delay of logistics activities causing a challenge in front of industries to make goods or products available at the right place at the right time.
Scarcity of Resources – Manufacturing of any product can only be possible when there are required raw materials. Without raw materials, units can't start the production process. And as the supply chain and logistics are badly affected due to pandemic and lockdown, it is difficult to obtain the required resources needed to continue the manufacturing process.
Health Risk – Last but not least, this is the major risk in front of manufacturing industries to ensure the health and safety of all the labour, workers and managers working at the unit. People are a little afraid about the situation so the factory head and supervisor must keep an empathetic attitude towards the workforce and boost their moral support.

Solution to the problem -
Manufacturing industries are taking necessary actions like restructuring the organizational activities and changing investment decisions to generate a high return. It will take time to get back the economy and operations on the track the same as before. But while finding the solution to these problems the most important thing is to ensure the safety of the workforce. By following the rules and guidelines issued by state and local government, we can control the situation to some extent.

But the actual problem is humans tend to make mistakes. It is difficult for us to adapt to sudden changes and we might break the social distancing and other norms. One needs to be very careful but often during work, we forget that. Hvantage Technologies understands the problem and we work towards finding the way, therefore, we came up with the solution "H-Guard".

"H-Guard" safeguards your health and safety by maintaining & monitoring social distancing and records the contacts to do proper contact tracing at your workplace. It is a wearable device connected to your phone via Bluetooth. The primary objectives of "H-Guard" are:

Monitoring and Maintain Social Distancing.

Contact Traceability

To Control Community Spread.

The important features of "H-Guard" are:

App-Based Monitoring

Real-Time Alert

Alert History Reports

Contact Traceability

Safeguard the health of your employees as well as your industry with us!!